A Green El Salvador Boutique Hotel
The affordable boutique hotel is truly a garden oasis, set behind a manicured facade on a quiet street in the not-so-quiet metropolis of San Salvador. A namesake tree stands before a walled mini-complex that abounds with plant life within. A covered balcony offers views of the city and its volcanic backdrop, as does a rooftop observation deck that's accessed by a spiral staircase. Atop, you'll find a green roof with a canopy of plants that absorbs the sun's heat to cool the rooms below.
Hotel Rooms in Tropical Tones
Designed by local artists, each individually decorated guestroom is done in sweeping patterns with bright colors that reflect the warmth of the tropics. Accents like traditional woven hats and miniature guitars in a multitude of colors add touches of distinctively Salvadoran culture. Accommodations look onto a center strip of greenery that serves as a natural air filter, with a gurgling fountain providing the soothing background track to the medley of music performed by songbirds.
Art on display throughout the hotel comes from handicapped artisans who use natural materials like gourds to create their works, including signs in bathrooms heralding the fact that the water was heated by solar energy, and near light switches reminding guests not to waste precious wattage.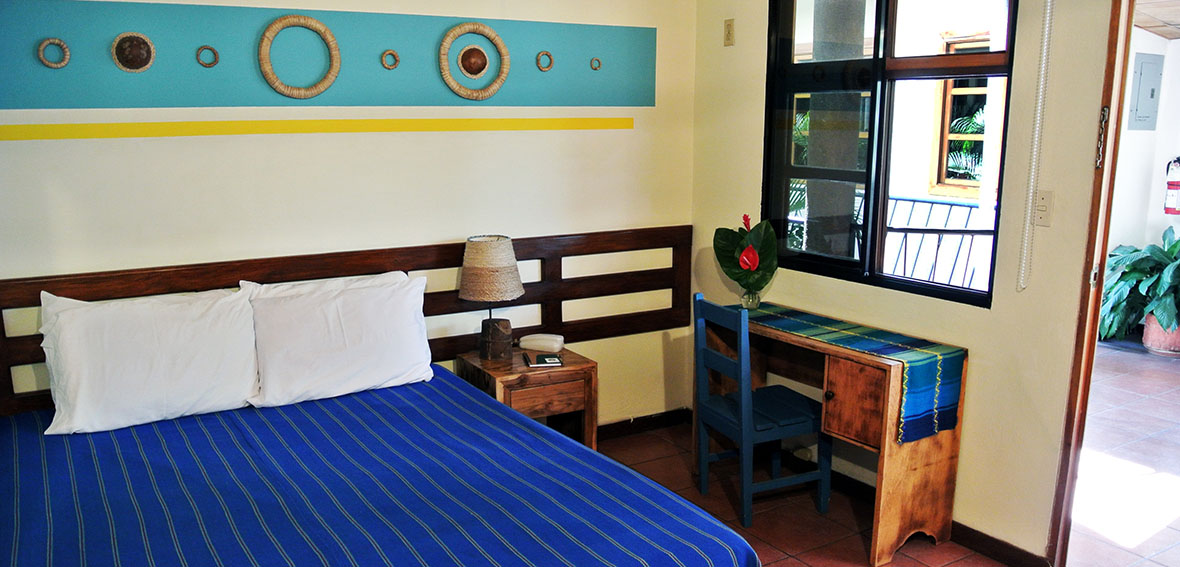 Ample Dining Options to Start the Day
Breakfast that's included in the room rate is locally sourced and largely organic. It includes pesticide-free fruit, farm-fresh eggs and fresh-squeezed orange juice -- pressed by manual juicers that replaced energy-sucking electric machines. Beyond pancakes, waffles and a continental option with granola and yogurt, two of the most popular selections are the Americano and the Típico. The former has eggs, ham and hash browns, while the latter dish comes with traditional plantains and beans. Meals are served in a lush garden that's fed by recycled water from a bio-garden with a natural stone filtration system.
Building an Eco Friendly Hotel
Going green was a necessity rather than a choice for Carolina Baiza, the force behind the eco-initiatives at the family-run business. Runaway energy costs brought the place to the brink of bankruptcy in 2008. USAID, the U.S. Agency for International Development, was brought in to identify green ways to cut costs. Energy-efficient lighting replaced standard bulbs. Rooftop air conditioners got covers to increase efficiency. Electricity bills dropped dramatically. The hotel later got a grant from the Salvadoran government to partially subsidize the installation of its green roof, a solar dryer for laundry, along with insulated windows and walls.
Centrally Located San Salvador Hotel
For a neighborhood stroll, it's a 5-minute walk to Antiguo Cuscatlán Park, a small tree-shaded plaza that's surrounded by shops and traditional pupuserías. La Laguna Botanical Garden, a 12-minute walk farther, has trails that wind through tropical greenery and a pond where you can feed fish.
A complex of modern shopping centers is less than a 10-minute drive. Mulitplaza has international retail stores, nightclubs and restaurants. Neighboring Gran Via offers upscale shops and is a popular place for outdoor dining. You can also enjoy San Salvador's nightlife with a 7-minute drive to the restaurants and bars in the bustling Zona Rosa district. Or you might prefer the pedestrian strip of cafes, clubs and shops at Paseo de Carmen, an 11-minute drive from the hotel.
For cultural excursions, it's a 7-minute drive to the Museo de Arte de El Salvador, home to works from Latin American artists in a modern exhibition space. It's the same distance to the National Museum of Anthropology, housing colonial and pre-Columbian artifacts. With a drive of 16 minutes, you can be at Joya de Cerén, a UNESCO World Heritage Site with an ancient village was preserved by volcanic ash. With a 26-minute drive, you can be hiking up the San Salvador Volcano.