Laid Back Beach Dining
A mere block from the sand, enjoy soft music and people-watch the parade of beachgoers that passes before the wide entrance of Poseidon's main dining space. Lunch is particularly popular at the laid-back eatery, with casual options like mahi-mahi fish tacos, hearty hamburgers, Philly cheesesteaks and generously stuffed burritos.
Fresh Catches on the Dinner Menu
From a seasonal menu that changes monthly, savor starters like spicy shrimp fritters, seafood soup in a coconut-milk broth and Asian-infused appetizers such as vegetable tempura and fried calamari with sweet miso sauce. Ample entrees overflow with sides of vegetables and homestyle mashed potatoes. Caught fresh daily, yellowfin tuna is one of the house specialties, sliced thick and served with soy sauce and balsamic vinegar. Mahi-mahi with tangy mandarin orange sauce is also a popular choice among the seafood selections.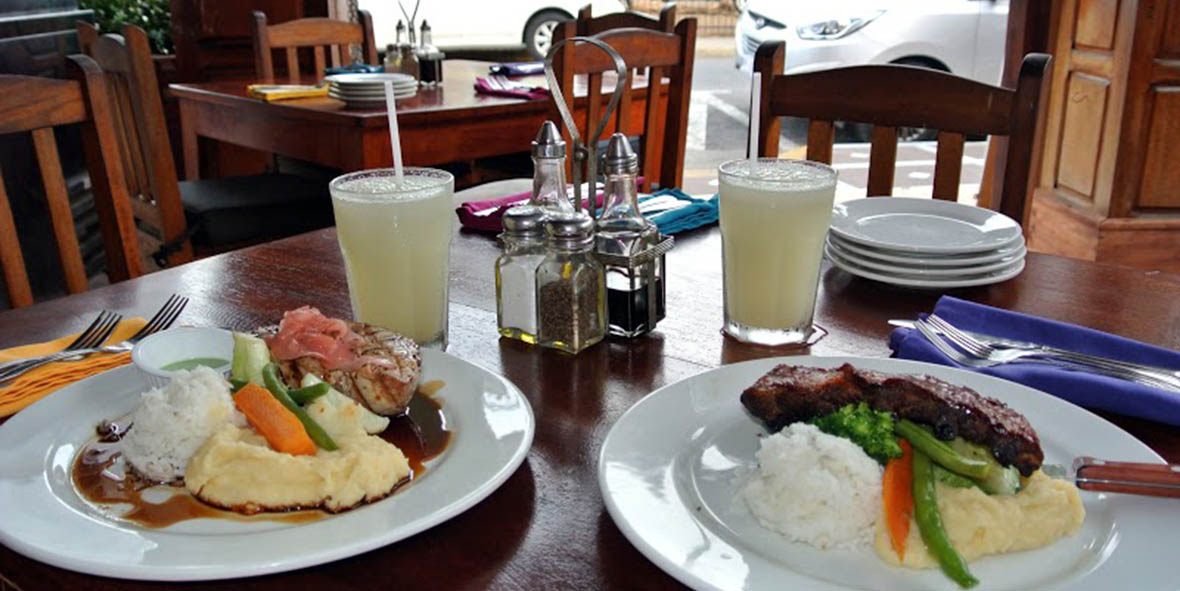 Slow Smoked Steaks
Meat lovers can delight in a choice of prime steaks such as local filet mignon with jalapeno bearnaise sauce, as well as USDA cuts of boneless ribeye. Smoked baby back pork ribs are basted in Tim's Famous Tennessee Barbecue Sauce -- the coveted creation of proprietor Tim Odon, a Tennessee native who slow cooks the ribs in an on-site double-barrel smoker. Dessert offerings include the house specialty of Bananas Foster a la Mode.
If a nightcap calls, you can head up to the third-floor Sky Lounge and Sports Bar, with outdoor terrace seating and an intimate, air-conditioned indoor area. Large flat-screen TVs with satellite channels get most US sports events, making the watering hole a popular spot for gringos. Sky Bar pours most major labels of spirits and serves a slate of tropical drinks -- from a classic piña colada to the in-house conceived Margarita Rica.