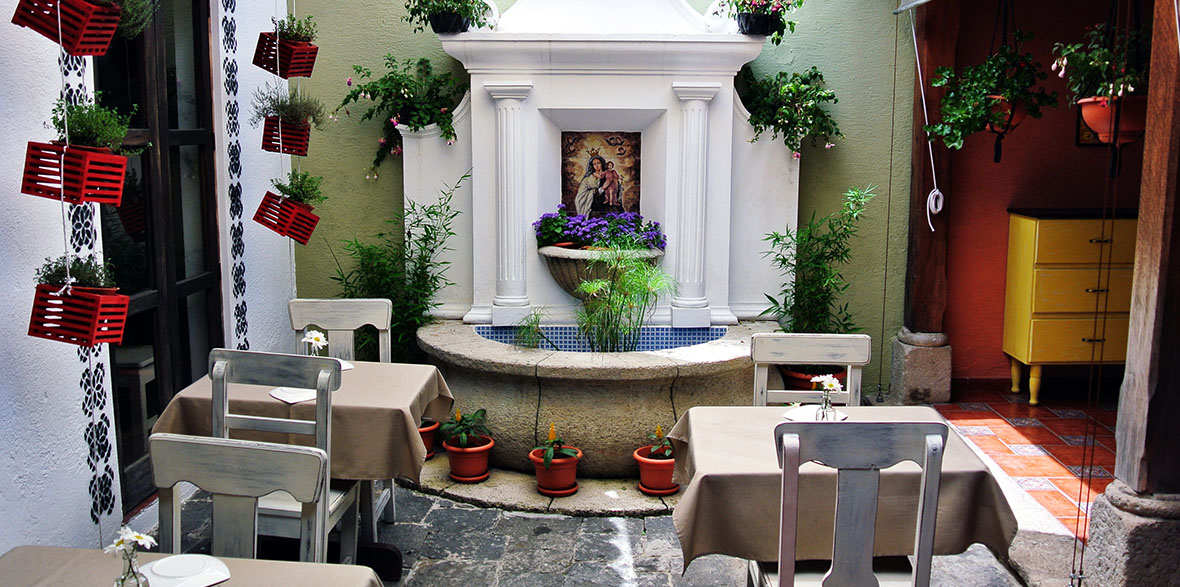 Your Hosts
La Gastroteca is the creation of Spanish chef Alberto Barroso and his Guatemalan-born wife Ana Lucia, who studied in Spain did the eatery's interior design. Barroso trained in culinary arts with a focus on European fare at the AIALA Cooking School, founded by famed Basque chef Karlos Arguiñano. Chef Alberto went on to work at Arguiñano's hotel and restaurant, serving as its seafood specialist for more than a decade.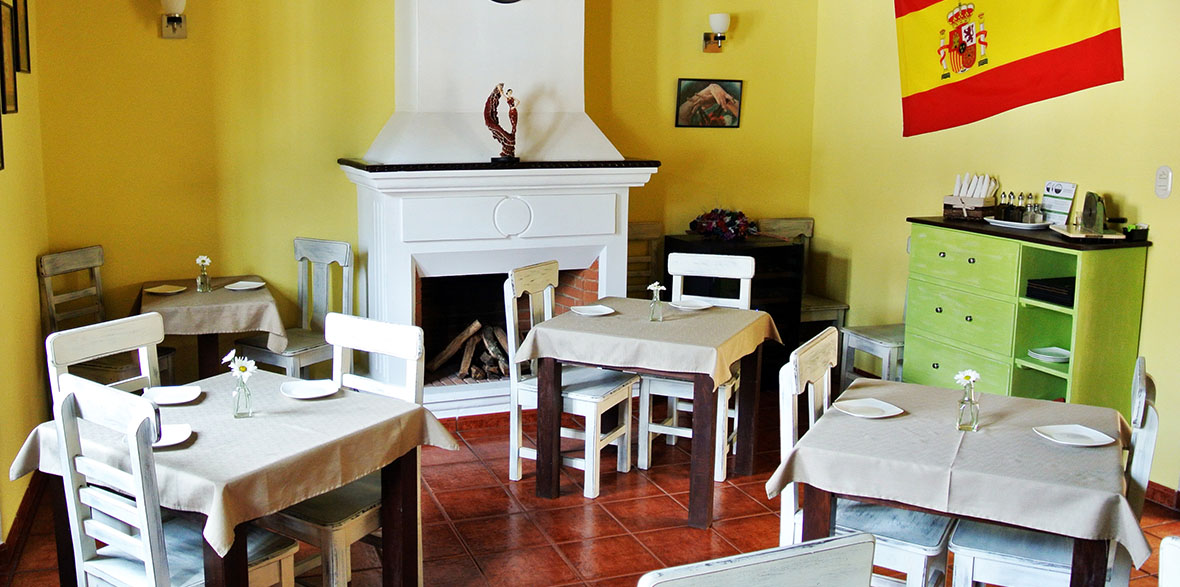 The Space
Entering the colonial-style house, you pass through a large vestibule with a chalkboard wall that has messages from past diners. In Spanish, German, and English they praise the food or simply give shout-outs to mark their visits. A central patio has intimate wooden tables before a fountain with Roman-style columns, surounded by potted plants and hanging greenery. A color scheme of beige and white is complemented by light green and orange hues, offset by accents of primary colors like red and yellow.
Off the patio, French doors lead to a more-modern dining area that can accommodate large groups, with long bank seating lined by colorful throw pillows. On the patio's opposite side, a more-formal dining room with a tall fireplace is awash in yellow. Touches of Spain are scattered throughout, from Spanish flags to posters of bullfighting handbills and festivals from the Iberian Peninsula.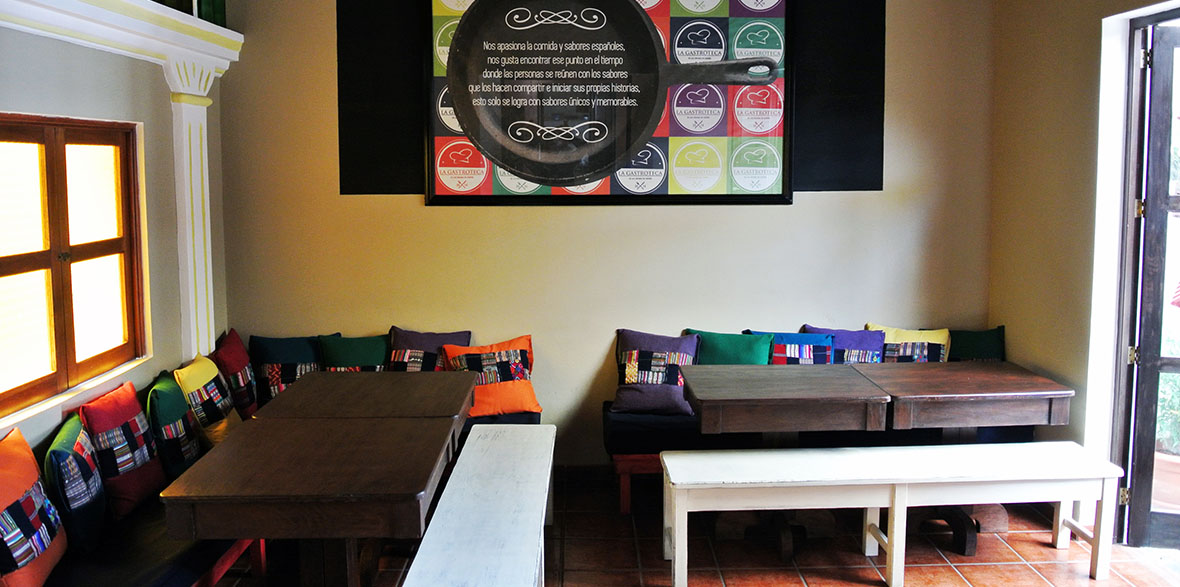 The Menu
Chef Alberto, who was born in Segovia and has worked in restaurants in Palencia, Spain, prepares dishes found all across his home country - though the influence of his seasoning is decidedly Basque. Each day, Gastroteca offers selections from different Spanish regions – like Castile, Valencia, and Andalusia. Appetizers include Spanish classics like gazpacho, cold tomato soup served in a small glass with boiled egg and diced Serrano ham, as well as Basque-style chowder. An Iberian-inspired platter of cold meats has sausage and ham paired with cured Manchego cheese - served with toasted tumaca.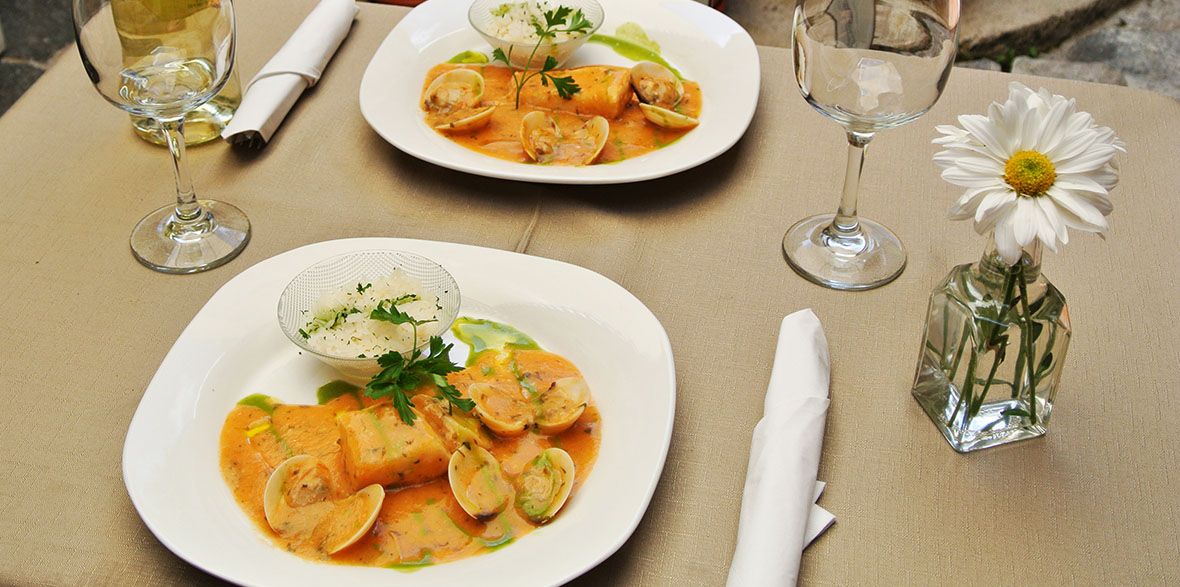 Main courses have selections from the sea like the chef's specialty of stewed rice with seafood, along with paella that has seafood, meat, or both. Meat lovers will delight in cochifrito, bite-sized chunks of crispy pork served over vegetables and potatoes with a sweet-and-sour tomato sauce. The Spanish staple of oxtail stew is prepared with a red-wine sauce, and tenderloin medallions are served with sweet port-wine sauce. For dessert, you can delight in caramelized pears in red-wine sauce and cinnamon, egg-and-cheese custard with strawberry jam, or Catalan ice cream.