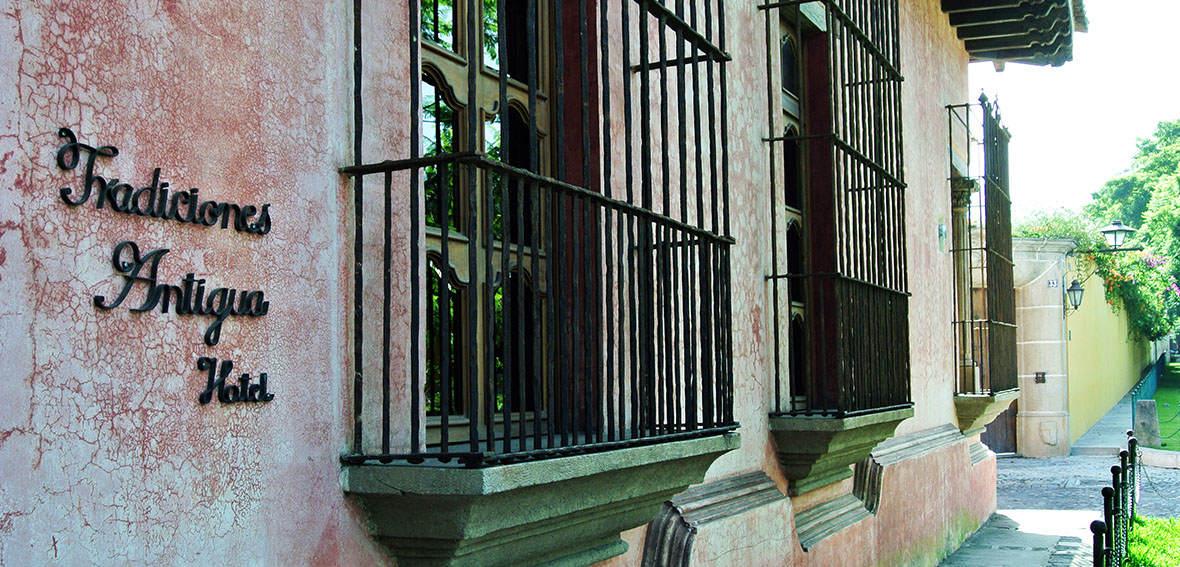 Tranquil Hotel with Gardens
Upon entering Hotel Tradiciones Antigua, you'll first hit a garden with a fountain at its center that's flush with plants and flowers. Corridors with hand-carved wooden columns in colonial style, high open-beam ceilings, and cafe tables line the central green space. Accents like walls with artfully exposed sections of brick and ornamental ironwork are found throughout the rustic-chic getaway.
One of the City's Best Hotel Rooftop Views
A climb to the bi-level rooftop space will yield impressive views of three volcanoes and the town below. Perfect for some morning yoga or enjoying a meal in the open air, the area is bounded by spanish-tile rooftops and has wrought-iron seating.
Elegant Hotel Common Areas
Just off the garden, you'll find a large living room with towering fireplace and overstuffed sofa that's perfect for drinks and conversation, or settling in with a good book at night. Tall windows that face the street feature decorative wooden shutters. The adjoining dining room is a bright, sun-filled space with a large table at its center where the complimentary breakfast is served. In semi-buffet style with made-to-order eggs, the morning meal has fresh fruit, ham, cheese, plantains, beans, artisan rolls, and fruit spread.
Relax in Refined Guest Rooms
Five guestrooms continue the colonial-era stylings, along with modern comforts like flat-screen TVs, free WiFi, and bathrooms with plentiful hot water – which is not always the case in Antigua Guatemala. The master Semana Santa Suite is an expansive accommodation with a walk-in closet, fireplace, and separate seating area. It's also got a spa tub under a high dome-shaped brick ceiling, and impressive view of a volcano. Also on the upper floor, Las Posadas guestroom overlooks the terrace with mountain views. Las Procesiones sits by the garden on the ground floor, as does Noche Buena, a guestroom with a separate seating area and garden view.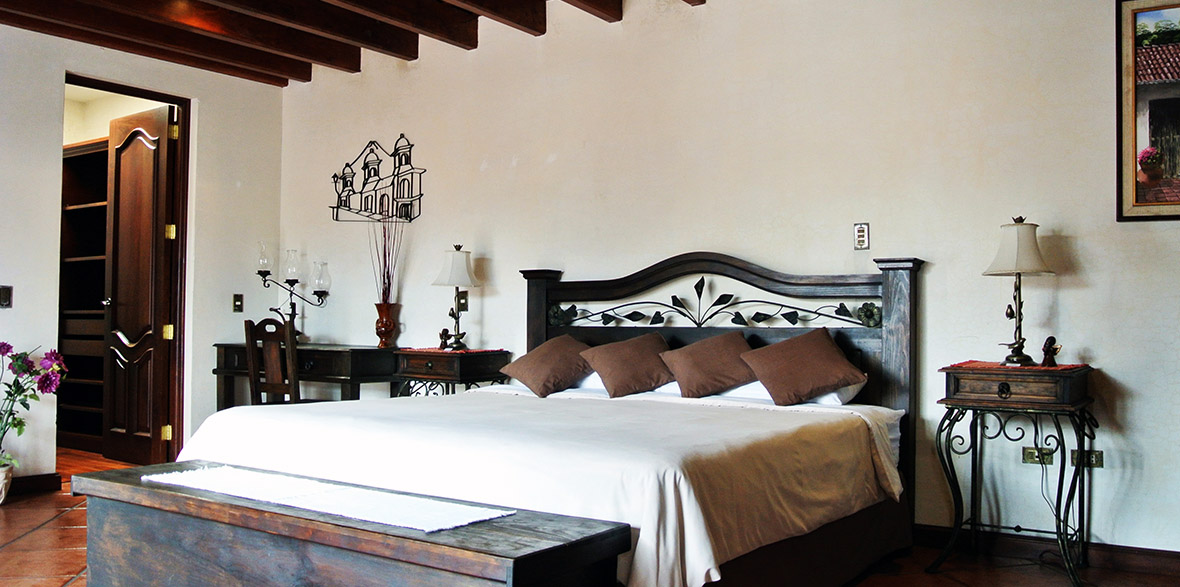 Near Historical Sites
You'll be a 5-minute walk to Capuchinas Convent. The massive structure that dates to the early 1700s has courtyards, gardens, and a central fountain surrounded by Tuscan-style columns. With a 7-minute walk you can be at La Merced Church, a Baroque building dating to the 18th century with one of the city's largest fountains and stucco with ornate arabesque patterns. At the ChocoMuseo, an 8-minute walk, you can learn about the history of cacao and take a chocolate workshop. It's an 11-minute walk to Central Park, Antigua Guatemala's hub and home to its main main cathedral and colonial municipal buildings.