Prominently set on a commanding corner of Calle Real Xalteva, Hotel Real La Merced displays its history on its exterior. Alabaster-hued walls are sectioned by tall transom-topped windows and neoclassical columns that rise to a roof with a crowning balustrade. Cantilevered balconies of Renaissance style jut over a diagonal concrete-tile sidewalk.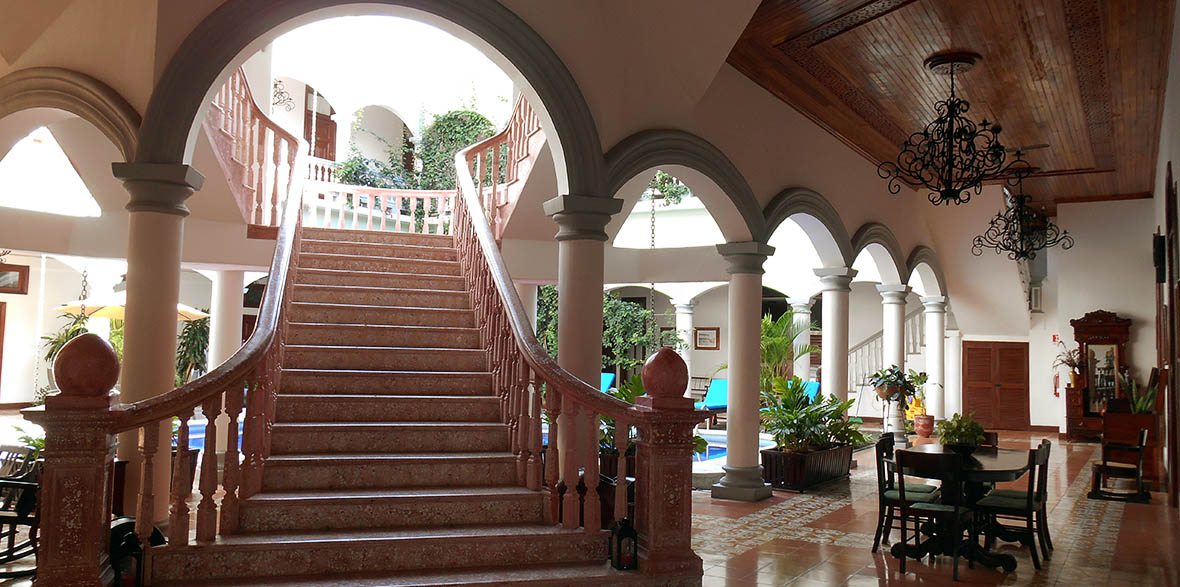 Step inside, crossing an expansive lobby with terracotta tile floors and high white-plaster walls, contrasted by heavy wrought-iron ornamentation. Continue to stroll under the deeply varnished planked wood ceilings of a ground-floor arcade. Rotating art installations lie along the arched colonnade that bounds the lush interior courtyard, along with vintage touches like a mid-century radio and mahogany phonograph cabinet. Decoratively carved wooden doors lead to spacious salons with seating clusters that hearken to bygone days of more graceful social gatherings.
Dominating the courtyard, a generous pool with a jacuzzi sits flanked by a line of padded loungers and surrounded by potted plants. Settle into a sweet spot to laze in the sun, or refresh at a café table under an umbrella's shade. Overlooking the central space, a wide second-floor veranda has white wicker rockers that welcome you to ease back and enjoy the breezy throwback scene.
Live the History of Granada Nicaragua
The original mansion was constructed in the early 1900s. Its most prominent feature, a grand marble staircase of Italian origin and design, was installed in the 1930s. The swimming pool, the first in the city, was also added. During the decades that followed, the property fell into disrepair. In 2012, a complete rebuild that meticulously followed the initial architecture was commissioned. Only the staircase and pool remain, but the first building was immortalized in the 1987 film Walker. Ed Harris stars in the based-in-fact tale of William Walker, a 19th century adventurer who briefly conquered Nicaragua and burned down much of Granada.
Upon entering your guestroom, you may find the lack of lower windows a bit unusual. The spaces receive natural light from transoms and terrace doors, but there is a noticeable dearth of conventional windows. That's due to the adherence to the original design, best suited for tropical climates, creating cool interiors by avoiding direct sunlight. There are also modern air conditioners to cool the rooms should you desire. The contemporary conveniences continue in each of the 18 guestrooms with coffee machines that are stocked with gourmet Nicaraguan selections, flat-screen TVs with premium channels and free WiFi. Accommodations range from suites with balconies that offer impressive city vistas, to inner rooms that look onto the pool with garden and courtyard views.
Savor Nicaraguan Food Culture
The made-to-order breakfast that's included with your stay is served at Nicafé, a bright, airy space adorned by vibrant paintings. Start your day with fluffy blueberry pancakes, or dine like a local on a típico with eggs, plantains and gallo pinto. Beyond the extensive menu, the view is the eatery's top draw. Under colorful stained-glass transom windows, massive wooden doors open to provide wide, table-front views of the humming street scene and picturesque La Merced Church. It's an ideal spot to sit back and watch the world pass with a Macuá, Nicaragua's national drink of white rum and fruit juices.
True to its name, Nicafé specializes in local Nica fare. Begin your meal with Tostones Rellenos, lightly fried plantains filled with succulent chicken. For a taste of the country's famed beef, savor Churrasco Chimichurri, a slender cut of tenderloin served with traditional sauces. Or, dine in regional style with Cabayo Bayo, a local spin on Mexican fajitas with beans, chicken and guacamole among the items for you to load into corn tortillas. End lunch or dinner in time-honored provincial fashion with a plate of buñuelos. The crusty golden fritters are stuffed with cheese and yucca, accompanied by sweet cinnamon-clove syrup.
Set Off for Granada Nicaragua Excursions
You're directly across the street from one of the town's top attractions. Founded in 1534, La Merced Church is popular for its bell tower, which visitors can ascend for sublime views of the city, Mombacho Volcano and the islands of Lake Nicaragua. It's only a three-minute walk to Parque Central. The hub of public life in Granada has fountains, tree-shaded benches and opens onto the town's main cathedral. Take a nine-minute stroll to Calle la Calzada, a bustling pedestrian strip that's lined with bars and outdoor cafes. With a nine-minute walk you can also visit the San Francisco Convent and Museum, one of the oldest churches in Central America. Inside the structures that date to the 1500s, you can view a collection of pre-Columbian statues, as well as dioramas that depict the daily lives of indigenous peoples. You'll be a twelve-minute walk to the Fortress Polvora. Dating to the mid-1700s, the massive fortification was constructed to fend off pirate attacks. Today, it displays original cannons and has towers that offer fantastic views of the city.