Central Hotel in San Cristobal de las Casas
The bold Santa Fe color scheme of orange and blue is likely what will make the greatest impression on you after a stay at Hotel Posada El Paraíso. Set in a seasoned 19th-century building, the hotel has an eclectic mix of rustic-chic touches that give off a bright-and-boutique vibe. Architect Sergio Rodriguez David used natural materials sourced from the area -- like stone, native wood and adobe -- to create a space that connects to the land underfoot in the Chaipas region of Mexico.
Common areas for unwinding greet you upon entrance. Natural light fills a glass-enclosed span that runs along a wood-pillared patio. A few cafe tables with chairs sit on the edge of two separate lounge spaces. Each plant-fringed cluster has comfy seating and coffee tables for a living room feel, and looks onto the main courtyard. The central outdoor space overflows with plants and flowers, interspersed with a few tables and rows of potted greenery that create narrow garden pathways.
A Bright Hotel Dining Experience
Dining happens in two distinct areas. The first is a bright-and-cheery sunlight-filled cafe space with a handful tables and some stools before a service bar. With views to the garden, the room's bright blue and orange tones radiate in the morning sun. Meals can also be taken in the somewhat more formal room that adjoins. Dining tables sit before tall windows that face a lively street at the hotel's restaurant L'Eden. Specializing in Swiss and Mexican cuisine, the eatery is known for fondues, steaks and creative cocktails.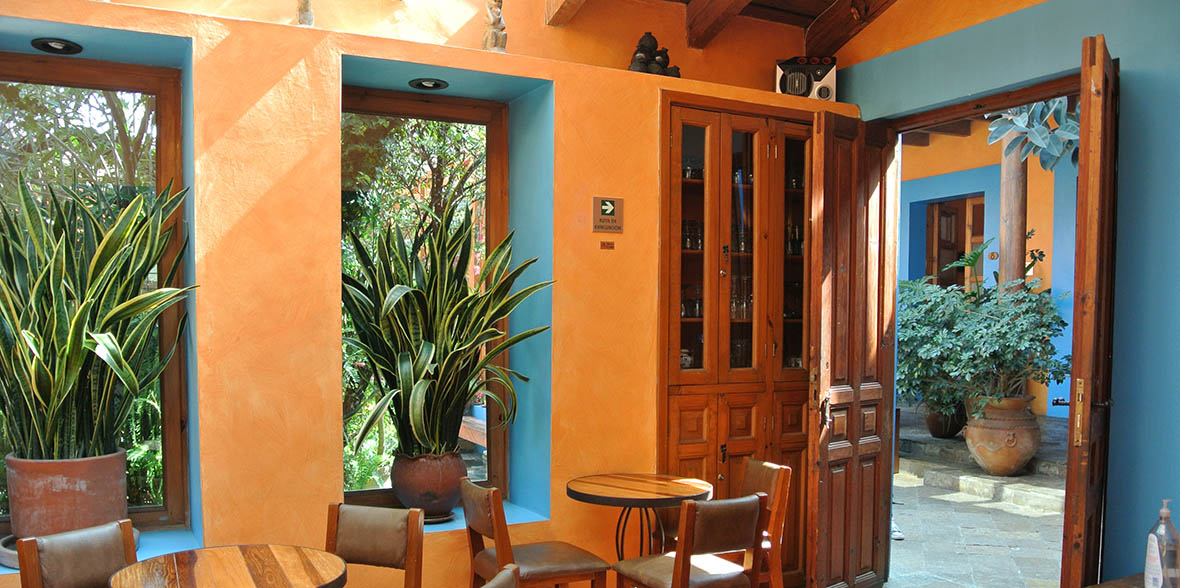 Loft Accommodations at the Chiapas Hotel
Hotel Posada El Paraíso's 12 guestrooms continue the sweeping orange theme that carries across the colonial-style courtyard. White bedding stands in stark contrast to the Santa Fe hues. For something a bit different, you might want to book one of their loft accommodations. The high-ceiling guestrooms have an extra bed that's plopped atop an open upper level. Bedtime means climbing a handcrafted wooden ladder up to the cozy nook. All guestrooms come with flat-screen TVs with premium channels, as well as free WiFi.
Nearby Attractions in San Cristobal de las Casas
Location is one of Hotel Posada El Paraíso's biggest draws. You'll be a one-minute walk to the wide-open Plaza de la Paz, home the town's main cathedral and diagonally opposite to the Zócalo. The second tree-shaded plaza welcomes with wrought iron benches and live music in the evenings. You'll also be a 5-minute walk to the Santo Domingo temple and convent, a baroque 16th-century church and adjoining museums displaying local culture. The market surrounding the church is a maze of stalls selling local goods. With a 7-minute walk you can check out the Arco del Carmen, the town's colonial tower that's done in distinct Moorish style.