Ya'ax Hotel Boutique
A luxury getaway in the center of Mérida, Mexico, Ya'ax Hotel Boutique offers upscale amenities with deluxe guestrooms, an outdoor pool and gourmet restaurant.
A short stroll from the dynamic heart of downtown Mérida delivers you to a serene escape that belies its spirited surroundings. The energetic buzz of street sights and sounds immediately fades upon passing through the double wooden doors that front the unassuming facade.
Perhaps you'll note the soothing ambient music or just subconsciously recognize the serene soundtrack as you're greeted at reception by a bilingual staff. Attention to detail lies everywhere your eye wanders about the carefully restored 19th-century structure. Traditional tile floors and colonial-style walls meet contemporary furnishings and bold glass accents. Presenting a master class in melding the classic and contemporary, local designer Martin López joined forces with owner Farid Estrada to create a delicate balance of Old World charm and modern-day motifs.
Delve into Unique Design
Just beyond the well-appointed entrance, you'll find an intimate lobby that continues the meld of old and new with a cozy seating area featuring high-end pieces like an oversized domed floor lamp. An assortment of eye-catching works from local artists graces the walls. But your attention is also drawn to a twin dispenser of "aguas frescas." Ubiquitous refreshments found all across Mexico, two varieties of the popular drink are always at the ready. Water and a dash of sugar are blended with local fruits such as strawberries, blueberries, oranges, lemon and papaya to craft the refreshing (and some would say slightly addictive) beverages.
Central Space Under Open Skies
Ease open a tall glass door that leads to the wide-open outdoor area at the getaway's center. Granite-topped tables and wrought iron seating are accented by pops of color from cushions that complement foliage throughout the courtyard. An arched alcove with a red accent wall gives a contemporary aesthetic in dissimilar harmony with traditional wooden furniture. Another alcove features a striking floral wall. Standing sentry over the space, an urbane bar with four stools is adorned with cocktails to make it seem as if you've happened upon a sophisticated soiree that's vacated mere moments ago. For daytime events, the sun-filled space is shaded by a cloth sail that spans the expanse.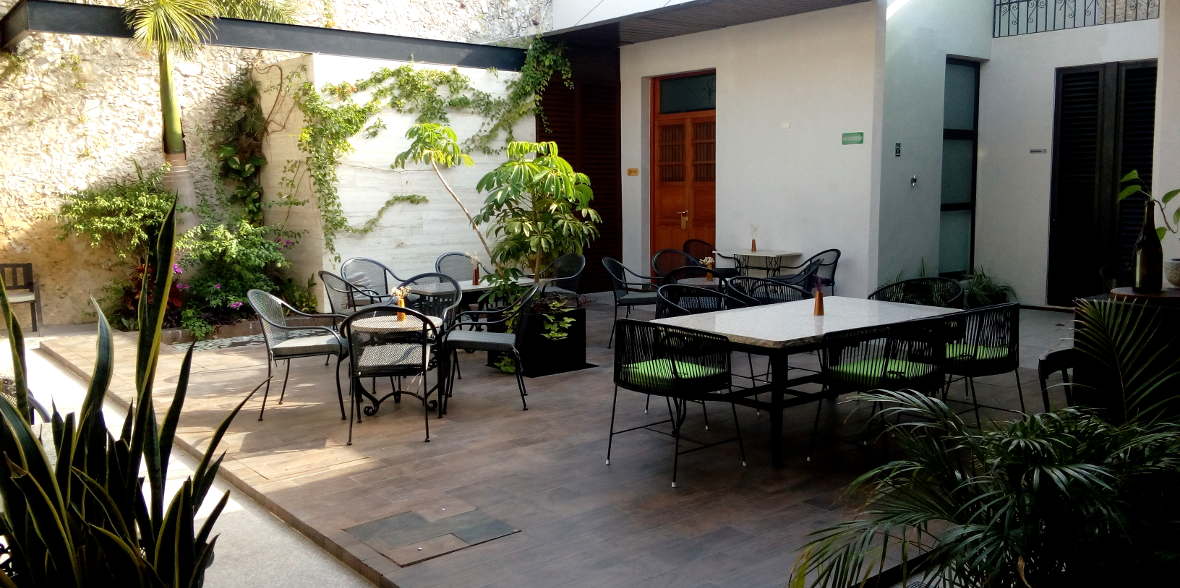 Swim and Savor a Spa Treatment
A few steps off the main outdoor area you'll find a dramatic shift for the senses. The spa-treatment room reminds more of a Buddhist meditation retreat than a colonial home, with calm-inducing accent lights and soft hues set to an easy tempo of ambient sounds. Backed by a cozy seating area, twin massage tables invite you to immerse in relaxation with a bespoke massage menu. Perhaps you'll choose a Mayan-inspired treatment with rosemary, lavender and basil that's designed to energize and restore balance. Or melt under healing hands with an aroma massage that employs ancient stress-relieving techniques.
Poolside is a perfect place to sink back into a lounger and let the benefits of your well-deserved repose wash over both body and mind. Bounded by a rustic stone wall and line of lush greenery, the lap pool that runs the extent of the guestrooms offers a sense of exclusive privacy. Relax under the cool shade of an umbrella or dive in for a refresher from the glowing Yucatán sun.
Your Graceful Guestroom Beckons
With titles such as Tropical, Casa Verde and Casa Tinto, each individually decorated guestroom is named to correspond with its interior design and predominant color scheme. In common they share timeless elegance and deep roots in Mayan heritage. Serving as a foil to state-of-the-art flat-screen TVs and brand-new air conditioners among the advanced amenities, walls are finished with chumul. Named for the native Yucatán trees that produce unique resin, chumul has been used for centuries for its ability to repel moisture while exuding a warm hue that negates the need for artificial dye. Enjoy a mini fridge, in-room safe and plush bathrobes. Bathrooms feature deep basin sinks, walk-in showers and skylights atop high beamed ceilings that fill the well-designed rooms with natural light.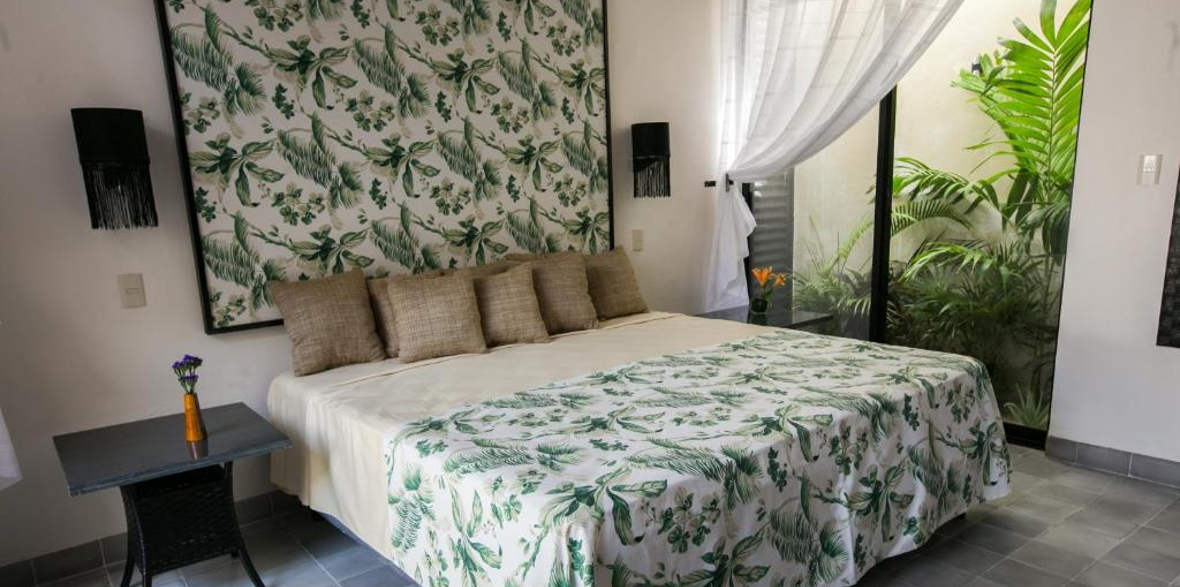 Dine Amid a Cutting-Edge Environs
Ch'ooj Gastronomic Gallery offers some of Ya'ax's more compelling architectural efforts, with a spiral staircase leading to a loft-style dining nook that overlooks the eatery. Below you'll find a blend of traditional tiles and handcrafted wooden furniture in a space that presents a sense of relaxed openness. Modern glass partitions stand in elegant disparity to decorative ironwork and walls with artful antique finishes. Tall windows that rise to the soaring ceiling look out on the main street and provide ample natural light during daytime. Diffused lighting sets a romantic mood in the evening.
Under the helm of Chef Carlos Olvera, the refined haunt features casual dining with upscale flair, serving a fusion of Yucatán delicacies and Caribbean cuisine. Gourmet selections include breakfast favorites like Huevos Motuleños, a popular egg dish that hails from the nearby town of Motul, traditional Mexican chilaquiles and Croque Monsieur that are most often found in French cafés.
For dinner, you can begin with starters including salmon with citrus reduction crafted from local fruits and served alongside avocado purée. Mains include select cuts of pork fillet glazed with plum barbecue sauce and xtabentún, a distinct regional liqueur made from local anise seed. Complete your meal with the specialty poblano mole in puff pastry with Oaxaqueño chocolate and paired with fried caramelized plantains.
Stay Close to Mérida's Top Sites
From the city's top tourist attractions to relaxed spots for experiencing everyday life, Ya'ax is centrally located. You're a ten-minute walk to Plaza Grande. The geographic and metaphoric center of life in town, the sprawling public space is surrounded by some of Mérida's most iconic architecture, including the Catedral San Idelfonso, Governor's Palace and City Hall. Settle onto a park bench, get a shoeshine and enjoy the vibrant scene. For a more laid-back respite, Mejorada Park is a three-minute walk from Ya'ax. Dominated by a bronze sculpture, the park is popular for local activities including youth parades and dance practices. A seven-minute walk from the boutique hotel brings you to Santa Lucia Park, a tree-shaded sanctuary that's surrounded by shopping and dining options and home to giant chairs that will surely end up on your Instagram feed. You're also a 12-minute walk to Paseo de Montejo, one of the city's most fashionable boulevards, lined by 19th-century mansions, monuments and a must-stroll on any visit to Mérida.