Stay at a Colonial Hotel in Mexico
Set in an adobe-brick structure that dates to the mid-1700s, Hotel Casavieja captures the bucolic charm of the colonial town with authentically rustic touches. Exteriors of antique white connect three garden courtyards, where ivy climbs up pastel-colored stucco walls. Interior hues of yellow, and traditional red-tile rooftops, complete the color palette.
You'll be greeted by a reception area with a small lounge nook, a cluster of comfy chairs in a conversation arrangement. Adjoining is the largest courtyard, a bi-level space with carved-wood columns and seating for meals under a tall glass ceiling. A Talavera tile fountain dominates the garden spot.
An intimate indoor lounge has a flat-screen TV and seating areas that includes a computer station. Accented throughout are fabrics and art pieces in colors popularly seen on the streets of San Cristóbal de las Casas -- bold red-purple, orange and pink. Passing through one of Hotel Casavieja's gardens, and perhaps winding up a set of exterior wooden staircases, takes you to your accommodation.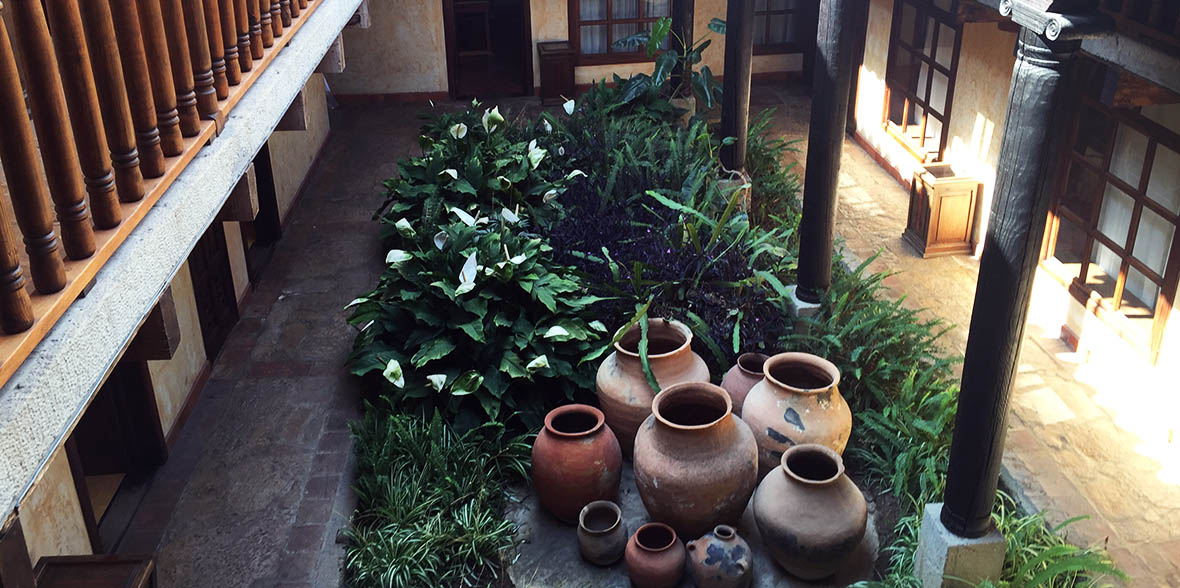 Hotel Room Features
Warmly toned guestrooms have natural wood floors – or traditional tile – and delicate touches like tapestries draped over decorative ironwork. Other colorful fabrics stand in contrast to the dark-wood furniture that's common to Southern Mexico. High open-beamed wood ceilings give a sense of space in upper-floor rooms. A few suites are available, with somewhat larger rooms that have king-size beds, separate seating areas and spa tubs. All guestrooms have free WiFi and TVs with satellite channels.
Nearby San Cristobal de las Casas Places to Visit
You'll be just a two-minute walk from Real de Guadalupe pedestrian strip. Home to some of the city's best restaurants and shops, the walkway connects to more lively pedestrian zones collectively dubbed "El Andador." With a walk of 8 minutes you can peruse local history at Casa Na Bolom, a museum and cultural center dedicated to aiding the people of the Lacandon Jungle. The 16th-century Santo Domingo Temple, a nine-minute walk, has an ex convent that's been converted into museums with displays on regional culture. A walk of 10 minutes from Hotel Casavieja, the Guadalupe Church is set on a hill with sweeping views of the town below.