Hotel Accommodations
Cabins at the hotel offer secluded stays on the slopes of hills rich with lush trees, coffee bushes and flowering plants that form a dense apron of greenery, criss-crossed by winding stone paths. Cabin porches with Spanish-tile roofs are bounded by low stone walls under open-beam ceilings, with impressive views of distant hillsides that are flush with coffee plants. The outside areas of the cabins host hammocks, as well as furniture like artfully weathered wooden tables for dining and antique rockers. Inside, tall a-framed ceilings of lacquered wooden planks preside over tile floors, accented by throwback furniture with heavy wooden shutters over the windows. Fragrance is provided by a candle-wax warmers, as well as traditional candles with aroma-producing coffee beans in their holders.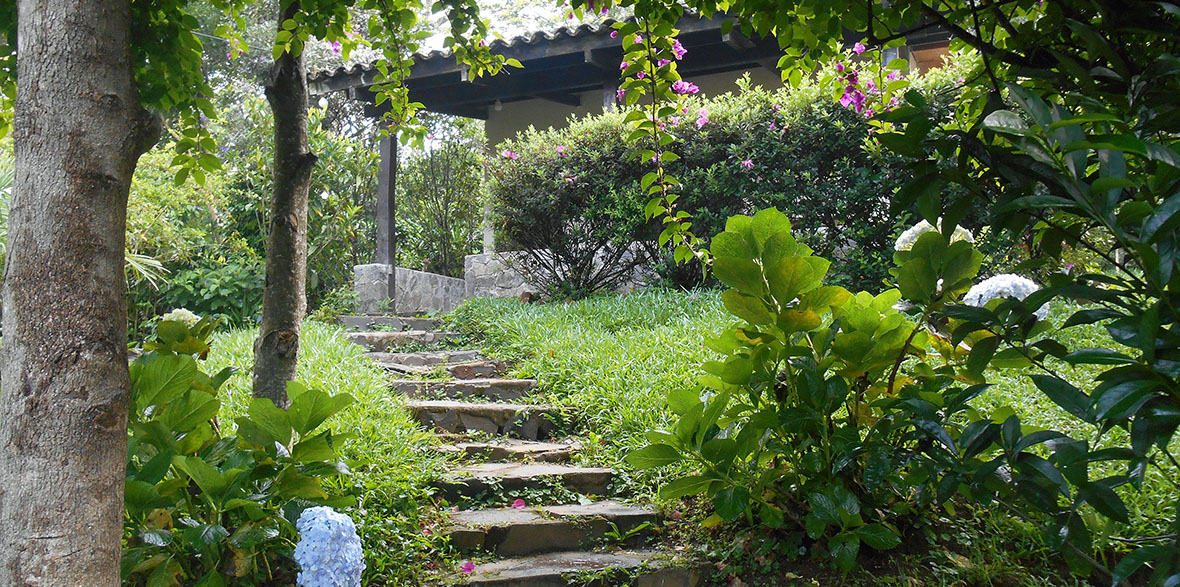 The Grounds
The property is dotted by water-filled stone vessels whose surfaces are decorated with flower petals to form artistic designs. A sizable white church is tucked in the rear of the property. A mini-menagerie has pens that house geese and a duck that flap in a stone water trough, a small white horse, and male and female "geeps," a rare cross breed of a goat and a sheep. The hotel's main building is fronted by large wooden dug-out canoes that hold flowers and plants, flanked by remnants from the coffee-production days, like wooden wagon wheels, moss-covered stone grinding vessels that serve as planters and canvas coffee bags suspended from antique hooks. The one-story Spanish tile-roof structure has greenery creeping across its exterior and belies the large open area that lies just beyond the entrance.
The Restaurant
The restaurant is one of the most popular eateries on La Ruta de las Flores. Wooden double doors lead to a sprawling and comfortably cluttered space that's filled with antiques and plantation memorabilia, like a stack of vintage luggage, antique clocks and period photographs. Local handicrafts and jewelry are available for sale at the reception desk. Rustic-chic dining areas, which are generally filled with locals for breakfast and lunch, wrap around a large a flower-filled garden at the restaurant's center. The menu focuses on Salvadoran dishes, like tipico breakfasts with local cheese, fried plantains and refried black beans, pancakes with dulce de leche, as well as lunch and dinner selections like tortilla soup with fresh tomato and avocado, and steaks with sauce made from locally sourced Tenquique mushrooms.
Food and Drink
The menu abounds with bounty from the sea, with fish-soup starters, a half dozen selections of ceviches and entrees like shrimp with garlic sauce, calamari with rice, and a fish filet that comes smothered in shrimp sauce. Chicken dishes, steaks and a few fettuccine choices round out the dinner menu, along with burgers, chicken sandwiches and personal pizzas. Breakfast offerings include tacos with eggs, beans and sour cream, and Salvadoran-style offerings that come with generous sides of fried plantains. You won't be disappointed in the tree-to-table coconut water.
Log Cabin Getaways
Las Flores de Eloisa is a small sister hotel that's just down the road. A handful of log cabins with simple rustic furnishings are tucked into lush gardens that are adorned with period pieces like wooden wagon wheels from coffee plantation days gone by. A small cafe is the centerpiece of the property, serving gourmet-style fare at an open dining area that's fashioned from rough-hewn logs, with antiques abound and works of primary colors by local artisans decorating the walls. Accommodations are kept simple and meticulously clean. Spanish-style cottages that are topped by red tile roofs have basic furniture and built-ins of heavy, dark wood over tile floors, with small TVs and coffee makers among the somewhat Spartan amenities. Bathrooms have fresh water. Remote-controlled air conditioners are modern, quiet and powerful.
Nearby Attractions
Nearby lie the towns of Ataco in one direction and Apaneca in the other. Ataco is the more vibrant of the two colonial villages, with a large number of restaurants that range from bare-bones bites to gourmet grub, serving cuisine that includes Japanese, French, Italian, and Chilean – along with a number of eateries serving Salvadoran dishes. Cobblestone streets are lined with brightly painted homes and colorful murals in the town that boasts a open-air market and a thriving arts-and-crafts scene. Many establishments are closed during the week, but boom when the weekend crowds swarm the tiny town. Apaneca has a similar vibe, with colorful buildings, cobblestone streets and a large church that attracts a good number of tourists.