The colonial-style hotel offers a secluded getaway with lush gardens and modern comforts near the city's top attractions.
While many a Granada hotel is housed in a colonial structure, few are as meticulously restored and cared for as Casa San Francisco. Entering the coolness of a lobby with a vaulted wooden ceiling and period tile floors, you instantly immerse in a centuries-old world. Beyond, flagstone paths cut through a tropical landscape of lush gardens, flanked by weathered brick, terra cotta planters and rounded archways. Courtyards bounded by ivy-covered walls have secluded nooks with intimate seating to enjoy the serenity of the manicured grounds.
After a busy day exploring the streets of the vibrant city, you'll find quiet refreshment in a plunge pool that's accented by mosaic tiles and surrounded by swaying palms. Later, head up to the terrace to enjoy a sunset cocktail with views of Granada's main cathedral and Mombacho Volcano. The rooftop space has café tables and loungers that invite you to settle in for nighttime relaxation under the stars.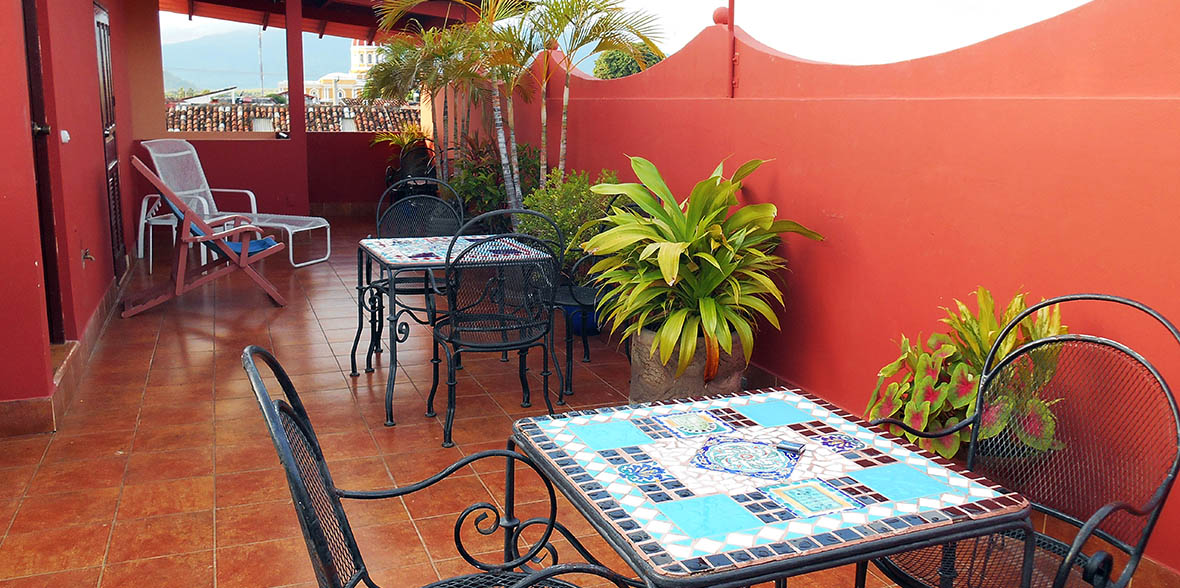 Guestrooms with Unique Style
Separated from the street by a cavernous lobby, guestrooms offer a welcome respite from the city's bustle. With both newly constructed accommodations and rooms in the original colonial home, the offerings are varied. You'll find charming suites outfitted with canopy beds and Spanish tiles, and perhaps enjoy a private balcony with views over a garden and the city's red-tile roofs. Walk along an arched colonnade to check into a poolside room with balcony seating. Wrought iron bed frames and hand-carved wooden statues mix with modern amenities like flat-screen TVs in the individually decorated guestrooms.
Breakfast and Bocadillos
Breakfast that's included with the stay can be savored on a breezy covered patio that looks onto a courtyard brimming with greenery. Among the ten menu options to fuel your day you'll find pancakes, french toast and omelets, as well as fruit served with Greek artisan yogurt and homemade granola. For something a bit more local, dig into a traditional Nicaraguan breakfast with eggs, cheese and a rice-and-bean side of gallo pinto.
In the late afternoon or evening, you can wander into the restaurant that shares space with the hotel. Bocadillos is known for its tapas, including fish tacos topped with Pico de Gallo and braised pork ribs caramelized with hoisin sauce. Or perhaps sample some Drunken Gnocchi, potato dumplings in vodka-cream sauce. A daily happy hour offers two-for-one drinks with free yucca chips -- nice accompaniments to the ample selection of craft beers, or a Macuá, Nicaragua's rum-based national drink.
Take a Granada Nicaragua Walking Tour
Casa San Francisco is mere steps from a top cultural attraction. The Convento y Museo San Francisco is one of Central America's oldest churches, dating to the late 1500s. Inside, you'll find dioramas that recreate the daily lives of indigenous inhabitants, as well as a collection of pre-Columbian statues that were discovered on nearby Zapatera Island in Lake Nicaragua. You'll be about a five-minute walk to Parque Central. Presided over by the neoclassical Cathedral of Granada, the town's central public space is dotted by fountains, statues and tree-shaded benches to leisurely while away some down time. You'll also be about a five-minute walk to Calle la Calzada. Strolled by most of the town's visitors, the pedestrian strip is lined by lively bars, outdoor cafés and popular restaurants.