Johnny Depp, Shakira, Eddie Murphy and Beyoncé are among the stars who plopped down millions to own private slices of paradise in the Bahamas.
Johnny Depp Calls Pond Cay Home
With an infamously lavish lifestyle, of course Johnny Depp would have his own island sanctuary. He picked up the 45-acre Little Hall's Pond Cay for a chill $3.6 million back in 2004. Depp was then partnered with French actress-model-singer Vanessa Paradis, with whom he has two children. Set in the enviable Exumas area of the Bahamas, the white-sand-fringed island is solely run on solar power. Depp was filming Pirates of the Caribbean when he fell in love with the spot, and soon after dubbed his new Caribbean retreat "F*** Off Island."
Shakira and Company Bought Bonds Cay
Colombian superstar Shakira joined with Pink Floyd's Roger Waters and Spanish singer Alejandro Sanz to scoop up Bonds Cay. The trio dropped $16 million on the sprawling 700-acre island that came with condos, luxury hotels and an 18-hole golf course. Rather than develop it for tourism, the three have opted to keep the isle and as a well-heeled artists' getaway. The cay also landed Shakira in an ugly legal tussle with her ex-boyfriend, Antonio de la Rúa. De La Rúa was part of a planned real-estate project and Shakira wanted him to have no part of the deal after they parted ways.
Eddie Murphy Relaxes on Rooster Cay
Eddie Murphy is all about location, location, location. His private island, Rooster Cay, is a mere five minutes from the mainland capital of Nassau. Nevertheless, the haven is a secluded island paradise that's spread over 15 acres of unspoiled nature. He snapped up the property in 2007 for $15 million.
Beyoncé and Jay-Z Escape to Strangers Cay
Largely wild and undeveloped, Strangers Cay was picked up by Beyoncé and Jay-Z for $3 million. The 360-acre island is carpeted with lush greenery and has a natural harbor in crystal clear waters that are perfect for snorkeling and scuba diving. Never known for roughing it in the wilds, the two quickly constructed a luxury mansion on their island getaway.
Tyler Perry Lives Lavishly on White Bay Cay
Tyler Perry spends his down time on a private island. The writer-actor-producer is the proud owner of White Bay Cay, a previously undeveloped island in the Bahamas. But Perry has done some serious developing, constructing a 14,000-square-foot mansion in decadent Bali style. He's also commissioned a spa, guest bungalows and a marina.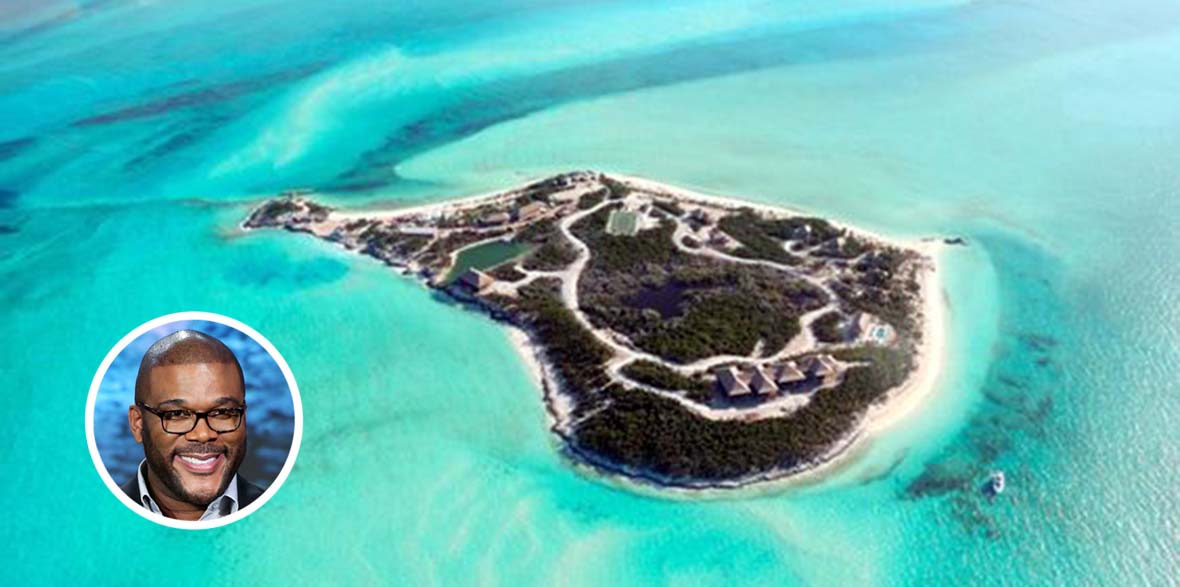 Tim McGraw and Faith Hill on Goat Cay
Country music duo Tim McGraw and Faith Hill retreat to Goat Cay when they want an island escape. Their 17-acre island is crisscrossed by nature trails and fringed by sandy white beaches that lead to clear turquoise waters. Though the McGraw-Hill family have luxury amenities in a four-bedroom home with a lookout tower.