Crossing the Gulf of Fonseca is a swift and scenic trip with the Ruta del Golfo, offering a unique boat ride from El Salvador to Nicaragua and back.
Scenic Boat Crossing from El Salvador to Nicaragua
Or vice versa. Anyone who has braved bus travel through Central America can tell you that riding on even the best of roadway lines can be a cramped and labored experience, fraught with long waits at border crossings. Offering a refreshing alternative is the Ruta del Golfo, easily the fastest and most-scenic way to travel between Nicaragua and El Salvador. Bypassing two border points on the land route via Honduras, the boat ride cuts hours off of the trip while delivering a sublime nature experience one is not soon to forget. Strap on a life preserver and hop into a modern open-air boat with powerful outboard engines that propel you across the calm water.
Experience Unique Gulf of Fonseca Travel
Your journey begins with seasoned tour guides that take you though a quick and uncrowded passport process, getting stamped at small immigration outposts in La Unión on the El Salvador side, and Potosí in Nicaragua. Then you're off for a ride across the water. With photo-friendly scenery from start to finish, the cruise offers views of sandy coves, hilly islands and lush landscapes where wetland forest meets mangrove-lined shores. Along the way you zip pass quaint fishing villages set against the stark backdrops of rugged volcanic hills. You'll also encounter impressive volcanoes that rise from the shores at both your departure and arrival points -- Conchagua Volcano in El Salvador and Nicaragua's Cosigüina Volcano.
Wildlife and the Gulf of Fonseca Islands
There is ample opportunity to take in wildlife on the picturesque trip. Early morning outings, when the top water has yet to get warmed by the tropical sun, offer the chance to see dolphins bobbing along the surface. Known around the world for its sea-turtle population, the shores are home to many a terrapin and its possible to catch a passing glimpse of some on shore. Birds swirl all around the island-dotted inlet, with flocks of frigates and pelicans soaring above as you make your speedy way across the gulf. The waters are also a bounty for fisherman, who cook and sell their fresh catches on a few of the inhabited islands that are well worth a stop.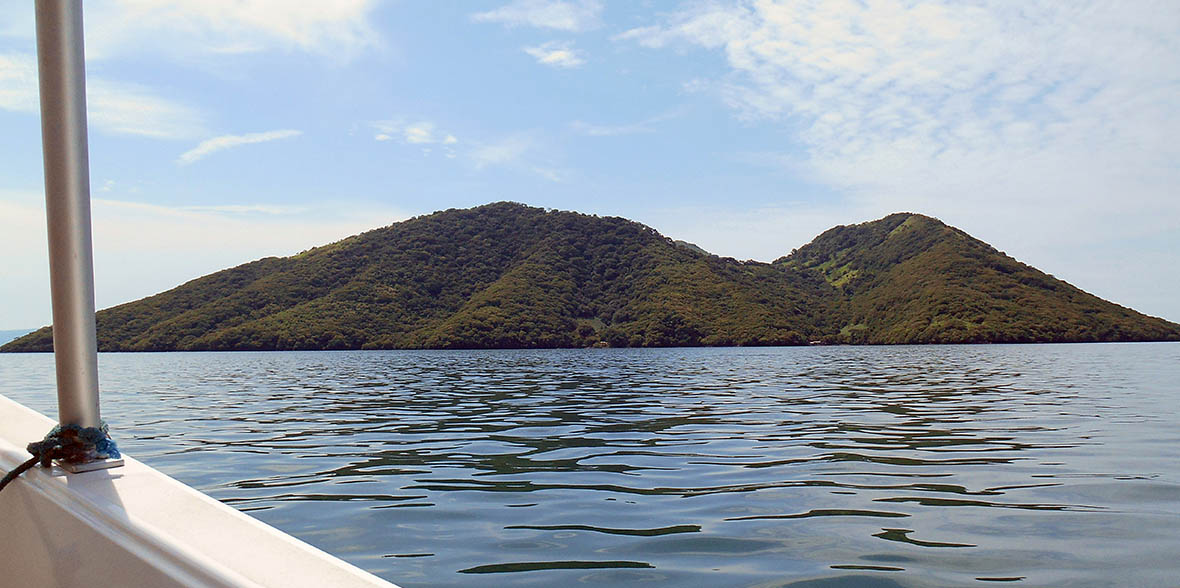 Visit Leon Nicaragua Tourist Attractions
On land, many travelers take the two-hour drive from the port of Potosí to the city of León. No trip to the colonial gem would be complete without a visit the town's main square and Cathedral of León, Central America's largest temple dating to the mid-1700s. León is also home to some of the country's best museums. Housed in a former prison, the Museum of Legends and Traditions showcases an unlikely mix of local lore and revolutionary history. Displaying works from pre-Columbian days to modern times, the Museo de Arte Fundación Ortiz-Gurdián has pieces from names like Picasso, Miró and Chagall. Set around a tranquil courtyard, the Museo Rubén Darío contains the famous poet's manuscripts and personal effects. Cerro Negro Volcano is one of the area's top attractions. A 45-minute drive from León, it gives you an opportunity to do some volcano surfing. Black volcanic sand makes the slopes perfect for a thrilling ride to the base on a snowboard, piece of cardboard or just your feet.
El Salvador Beaches and Culture
On the El Salvador side, the boat docks in La Unión. The small port town sits at the base of the imposing Conchagua Volcano, offering some of the country's best coastal views from its summit. A 50-minute drive from La Unión delivers you to the popular beach getaway of El Cuco. With palm-lined sands and calm waters that are well suited for swimming, the seaside enclave also has a good selection of seafood restaurants. Neighboring Playa Las Flores boasts world-class surfing, while nearby Playa El Esteron has secluded shores and some of El Salvador's most pristine sands. With a one-hour drive from La Unión you'll be in the town of San Miguel. Stroll the lively streets and take in a 19th century cathedral, the neoclassical Antiguo Teatro Nacional and the Museo Regional del Oriente, housing a collection of pottery and photographic exhibits.