Explore Soberanía National Park
Most travelers fly into Panama City when visiting the southernmost Central American country, putting them within a 40-minute car ride of Soberanía National Park. The largest green getaway near the capital city, the park has remained a natural protected area largely because it provides the water that keeps the Panama Canal functioning. Hiking trails wind through wide stretches of untouched rain forest that are home to over 400 species of exotic birds, along with howler monkeys among the more than 100 species of mammals. The Camino de Cruces trail offers a trek through Panamanian jungle that stretches from the Caribbean coast in the east to Pacific waters in the west.
Trek Up a Baru Volcano Trail
Visit Panama's highest peak with a trip to Volcán Barú National Park, set in the western highlands on the outskirts of the town of Boquete. With diverse terrain that runs from low, humid woodlands to cloud forests in rarefied air, the retreat is a popular spot for birdwatchers who visit to view the over 250 species that populate the park. These include the famed quetzal, along with yellow-thighed finches, black-bellied hummingbirds and hairy woodpeckers. You'll also be among mammals like leopards and pumas. Trails take you through lush rain forest that are thick with bamboo gardens and soaring trees tangled with vines and sprouting orchids and bromeliads. The Quetzals Trail winds through grasslands and deep forests that offer sublime views of the Boquete Valley. Rivers that flow from the Barú Volcano are renowned for their adrenaline-inducing whitewater rafting. On a clear day, the volcano affords views of both the Caribbean Sea and Pacific Ocean.
Discover Hiking in La Amistad International Park
Shared with Costa Rica, La Amistad International Park in the rugged Cordillera de Talamanca mountain range is one of the most biodiverse places found in the Americas. While much of the park is inaccessible, there are a number of hiking trails that welcome with treks of all proficiency levels. Home to over 100 species of birds, the protected area is also a refuge for endangered mammals. Among the creatures that call the UNESCO World Heritage Site home, you'll find peccarries, tapirs, agputies and pacas, sharing territory with jaguars, anteaters and white-faced monkeys.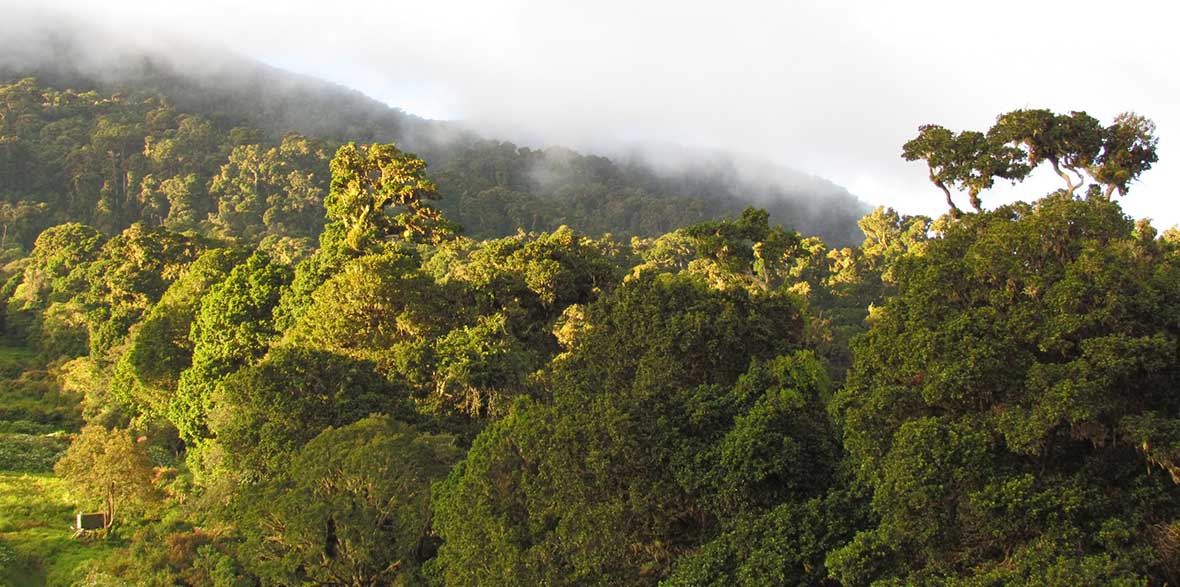 Do Some Coiba Island Snorkeling
Another UNESCO World Heritage Site, Coiba Island National Park spans 38 islands of unspoiled paradise with white-sand beaches and lush tropical forests. Snorkelers and divers visit the warm waters to view massive schools of brilliantly colored fish, along with dolphins, manta rays and whales that frequent the Pacific Ocean's second-largest coral reef. Dubbed the Galápagos Islands of Panama, the remote locale was once a penal colony and most often reached by small outboard boats that disembark from the tiny surfing town of Santa Catalina on the mainland.
Views from the Metropolitan National Park
The world's only tropical rain forest within a capital city's limits, Metropolitan National Park lies just a ten-minute drive from the center of Panama City. With a quick trip you can transport from bustling urban streets to a tranquil natural setting that's rich with flora and fauna, and populated with wildlife. Though sightings are sporadic, you may be able to catch glimpses of monkeys, deer and iguanas. The park's hiking trails are its biggest draws. The most popular, Sendero Cienequita, takes you on a series of ascents and descents with a lookout that affords sublime views over Panama City, its bay, the Port of Balboa and the Panama Canal.
Bask on a Comarca Kuna Yala Beach
More than 350 Caribbean islands make up the archipelago of Comarca Kuna Yala, where turquoise waters meet white-sand beaches, wide expanses of coral and tangles of mangrove swamps. As you might expect, snorkeling is of the top attractions to the piece of paradise, along with fishing and scuba diving. On land, you'll find hikes that traverse the natural beauty of the little-developed terrain. Some of the islands are inhabited by the indigenous Kuna people, dwelling in thatch-roofed huts and living in traditional harmony with nature.