A top international travel destination for amazing beaches, the Yucatan Peninsula has lots to see beyond its sands. Let's look at a few.
Mérida
A quintessential colonial town, Mérida is easily the most stroll-friendly city in the Yucatan. All through the downtown streets of the capital city you'll find centuries-old architecture interspersed with gorgeous parks, along with an overload of dining and shopping options. Yucatecan culture is on display almost everywhere you look, from colorful hammocks and the ubiquitous guayabera shirts for sale to the smells of local delicacies like cochinita pibil and poc chuc wafting from eateries all across town. And if you're looking for nightlife, the lively cantinas of Mérida never fail to disappoint.
Bacalar
While the overwhelming majority of visitors to the Yucatan Peninsula are looking for seaside getaways, others enjoy these tropical retreats by a shimmering lagoon, which has been dubbed the "Lake of Seven Colors." Not far from Belize on the peninsula's eastern side, this long sliver of welcoming water meets the town of Baclar, a colonial site worth exploring with its 18th century fort that was originally used to repel pirate attacks. But water activities reign supreme in Baclar, with swimming, paddle boarding, and kayaking across the lagoon's glorious waters. Sure, you won't find white sand beaches here, but the slivers of sand you find along absolutely gorgeous waters here will do. And the small fee to go to Cocalitos Beach is well worth the cost.
Chichén Itzá
If one had to point to a top site to see in the Yucatan, Chichén Itzá would probably be it; the Mayan ruins are stunning. The main temple, dubbed El Castillo, or The Castle, is one of Mexico's most iconic structures at the heart of one of the country's most important archeological sites. While the exact date of Chichén Itzá's construction is unknown, it's estimated to be around 1,400 years old. Explore the ancient pyramids, ball courts, and buildings that were once home to the elite who lived at one of the most important centers of the Mayan world.
Uxmal
While Chichén Itzá may have the greater claim to fame, and attract more tourists, the Mayan ruins at Uxmal can rival its more famous neighbor. The site on the eastern side of the Yucatan Peninsula differs from Chichén Itzá: instead of the classic sharp-rising temples, Uxmal's structures are somewhat lower and wider. They are also somewhat more modern, dating back to the 9th century, and still home to indigenous Mayans in the 1700s when the city was first discovered by the Spanish. Today, you can climb the largest of the pyramids, getting rewarded with a glorious view of the natural landscape surrounding the site.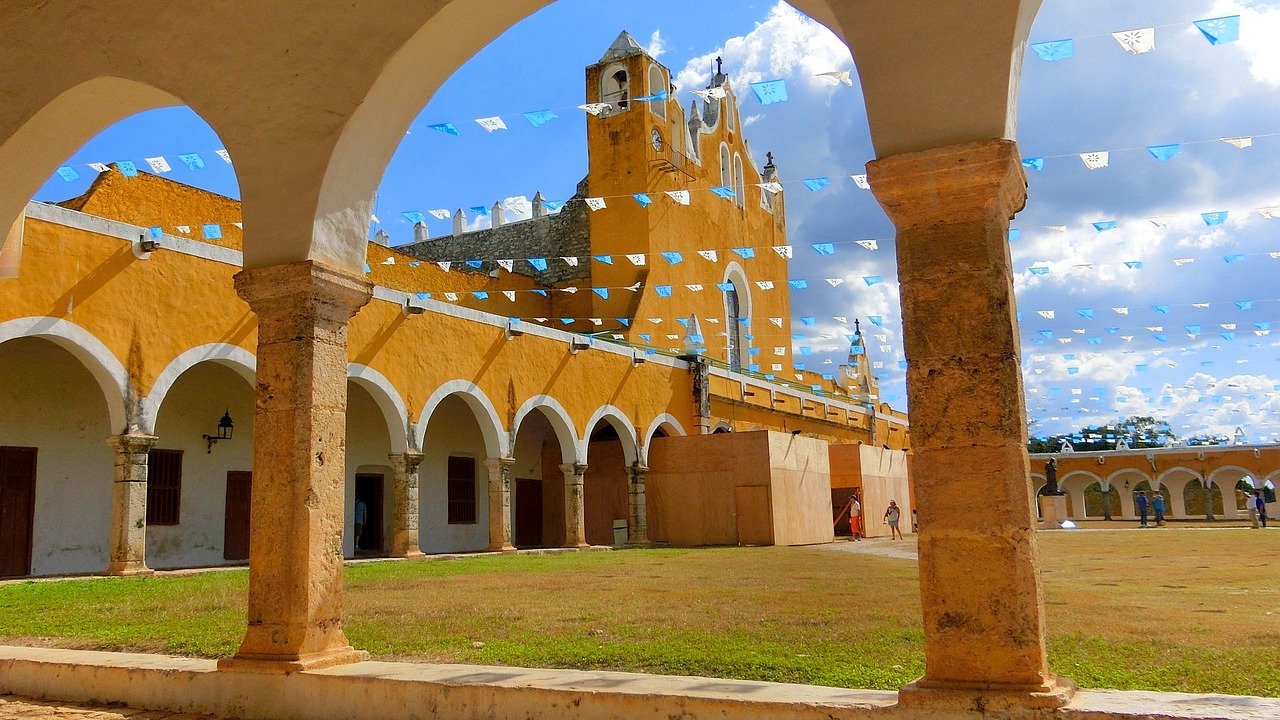 Izamal
Well known for its bright yellow buildings, and aptly known as the Yellow City, Izamel has made it onto more than a few Instagram feeds. While not a hotbed of tourist activity, the town is certainly worth a stroll along scenic streets with colonial architecture. One of the top sites to see is the Convent of San Antonio de Padua, home to a monastery, church, and expansive courtyard with a glorious yellow backdrop. As the town sits atop what was once a Mayan city, many of the buildings are constructed with the stone from Mayan structures and you'll find ruins scattered throughout the city.
Valladolid
One might be tempted to see this place as a rest stop on the way to Chichén Itzá, but Valladolid is well worth taking the time to explore. Those who do are rewarded with a classic colonial town, with brightly colored buildings, traditional restaurants, and more than a few fun cantinas. Plus, there's a great cocoa museum where you can sample authentic Mayan chocolate. Beyond nearby Mayab ruins, Valladolid also serves as a base for surrounding cenotes, where you can cool off in natural waters amid stunning green scenery.
Rio Lagartos
Located on a lagoon set just back from the Gulf Coast, the Rio Lagartos Biosphere is home to a stunning array of bird-life, notably famed pink flamingos that nest in the area. The best way to see it all is by boat, with tours taking you around the lake and down a river where you can see wild crocodiles sunning themselves on the banks. Cruise through estuaries lined by mangroves to see magnificent birds, including tiger herons, red egrets, and snowy white ibis, to name a few. Be sure to check out the quaint fishing village, where you can stop in a restaurant and taste some fresh-off-the-boat catches.
Campeche
While Merida may be the yucatan's crown jewel of colonial cities, Campeche deserves more mention that it probably gets. Set along a rugged coastline, the city has historical sites that are worth seeing, such as the dramatic hilltop San Miguel Fort, along with lots of pastel-colored colonial buildings in the town's historic center. While Campeche's downtown is compact, it can be quite a buzzing scene with nightlife spots and a range of restaurants specializing in fresh seafood. Soak in the bright colors, laid-back vibe, and rich history all around you.
Will your next trip to Mexico include some stops on the Yucatan Peninsula?