The Space
Sereno is housed in the former residence of the bishop of La Merced church, with structures dating to the 1600s. The expansive eatery has a host of different dining areas and spots for sipping cocktails. Entering, you'll first hit a courtyard with manicured grounds and a large flower-fringed fountain at its center. A patio with covered seating looks onto the central green space that's accented with Old World touches like clay planters and a colonial-era water jug. Another outdoor area lies atop a stone staircase with ivy-covered walls. With dining tables and a large bar at its center, the rooftop space has panoramic views – a perfect place to catch sunset and watch the light change colors over the centuries-old city.
Unique Dining Experiences Throughout
Back down below, you can have a pre-meal cocktail at an intimate lounge with a black-marble-topped bar, red walls, and hanging orange lanterns that create a sleek vibe. Or you might prefer drinks and conversation in a large room with clusters of sofas and overstuffed chairs before a fireplace. It's got a view of the ruins of the Santa Teresa, a Roman-style structure dating to the late 1600s that lights up at night. Offering the same view, a more formal dining room with a second fireplace has textured walls and exposed brick in the antique style that runs through the restaurant.
Private Dining in Intimate Spaces
For private dining, there's a spacious and elegant room with a towering hearth and long table under an ornate chandelier. A popular spot for wedding gatherings, the area has a mural dating to the 1920s that spans its four walls with tableaus that represent the whole of Central America. Then there's the cave. One El Serano's most-unique features, the cozy nook is literally a rocky cave bedecked with tiny white lights and romantic candles – a picture-perfect place for lovers to get engaged.
The Menu
For starters, soups include creamy selections like broccoli with beer and cheddar sauce, and squash with croutons and chopped green onions. You could try an order of baked mushroom with tarragon, or choose from a selection of salads like eggplant, and melon salad with serrano ham and mozzarella cheese.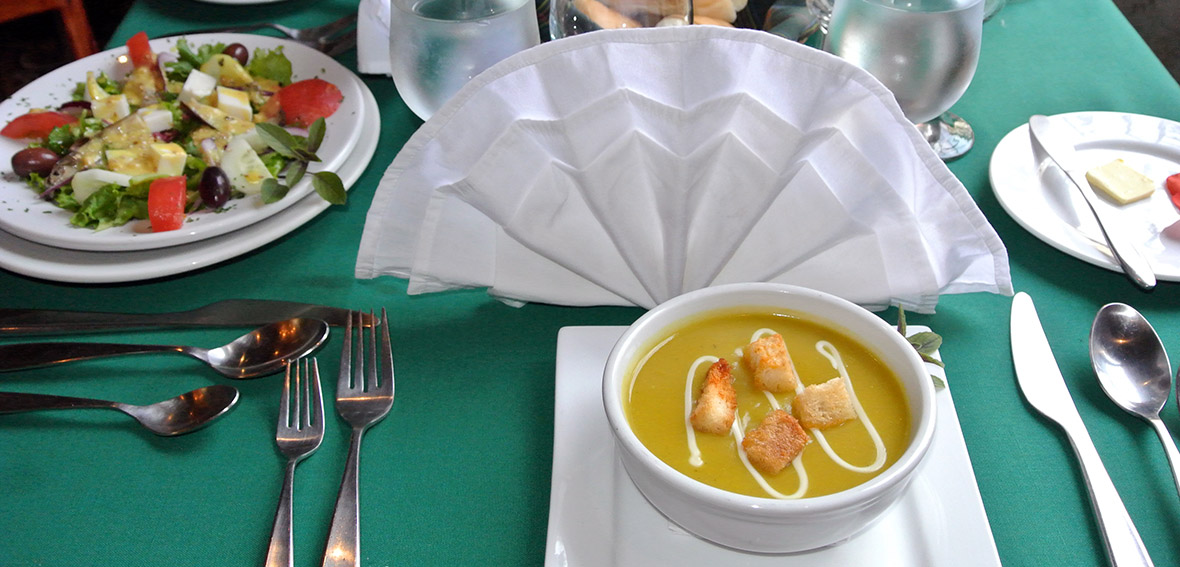 On the entree menu, meat lovers will revel in the pork-rich options, with dishes like pork chops accompanied by sauce choices of ginger and peanut, or tangy orange-honey. They're joined by offerings like pork loin with tarragon, and Pepián - a traditional Guatemalan dish with pork, beef, and chicken. Seafood options also abound with platters like sea bass fillet tinged with tamarind and coconut, talapia fillet and spinach, and shrimp with white-wine sauce and a pinch of parsley.
For dessert, you can sample homemade treats like orange flan with fruit and coconut, coffee-and-brandy cake, or mango sorbet with blackberry sauce.